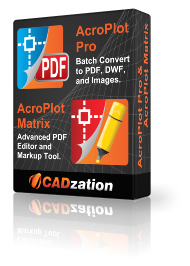 AcroPlot Suite 2024 Quick Start Guide
---
AcroPlot Suite (Includes AcroPlot Pro, AcroPlot Matrix, and High Quality PDF Printer Driver)
AcroPlot Suite is has been one of the most advanced CAD to PDF solution available on the market since 2001.  With AcroPlot Pro to convert various formats to PDF, DWF, and image formats, AcroPlot Matrix to edit and markup PDF files, and one of the highest quality PDF Printer Drivers we have all of your needs covered.
AcroPlot Pro
is the next generation in digital CAD conversion software. With the capability to convert an extensive list of file formats to PDF, DWF, and images AcroPlot Pro will serve as a nexus for CAD Professionals everywhere.  

 
Input Formats:
DWG, DXF, DOC, TXT, RTF, XLS, BMP, CALS, JPG, GIF, TIFF, PLT and more.

 
Output Formats:
PDF, DWF, BMP, CALS, JPG, GIF, GP4, PNG, TIFF

 
AcroPlot Matrix
software enables you to easily view, comment, modify and print an extensive list of file types like PDF, DWF, TIFF, PLT, and more, that are associated with the architecture, engineering, construction, and manufacturing design workflows in today's business environment.

 

With a streamlined interface that makes it easy to use, yet very powerful, AcroPlot Matrix doesn't get in the way of getting work done. Users can quickly open and add comments or stamps to files, insert, reorder, rotate, or delete pages, and even merge various file types into a single PDF or DWF.

 

Printing files to scale at full or reduced sizes that are dimensionally accurate is now possible in AcroPlot Matrix by using the "Custom Scale" option in the printing dialogue window. While other PDF and DWF software applications only print to either "No Scale" or "Reduce to Printable Area", AcroPlot Matrix provides the functionality to define a true reduction percentage so that output to any printer at any scale is now possible -- half-size prints are now quick, easy and accurate.

 

AcroPlot Matrix is quickly becoming the preferred software application for PDF communication across entire organizations because it is so flexible and easy to use, as well as, cost effective to deploy. It works well in all departments like administrative, estimating, accounting, legal, parts, maintenance, etc.!

More Information Online-->

 
---
2023
Last Updated: September 21, 2023